Life During Wartime
Posted: July 26, 2012
Filed under: Drama, Film
Leave a comment »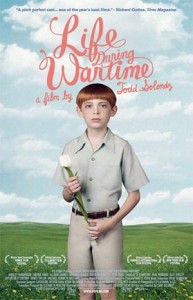 Film, 2009
There's a common thread between the work of Life During Wartime director Todd Solondz and cartoonist Daniel Clowes that I haven't quite defined, but I think is pretty evident. It has to do with their frequent portrayals of deeply flawed and deeply unglamorous characters. I have a bit of a struggle with this type of material. On one hand I enjoy it, as both are great storytellers. On the other hand, I feel awful after absorbing it. Clowes has said something along the lines of people who can't handle this type of material being weak willed narcissists, and that feels true to me. But on the other hand I'm going to die someday, and it's sometimes hard, especially in the moment, to see the merit in making myself feel like this.
My favorite aspect of Solondz's work is how he takes our kneejerk reactions to stereotypes and uses them against us. He seems to know exactly how any combination of broad characteristics including race, gender, or social standing will make us feel about them, and then uses it to make us feel awful, either by punishing or rewarding the characters that will hurt us the most (with some deliberate exceptions).
The contrast is blown all over the place in this movie, and it ends up looking kind of cheap. Deliberate?
---