Posted: February 3, 2013
Filed under: Action, Comics, Humor, Superhero
1 Comment »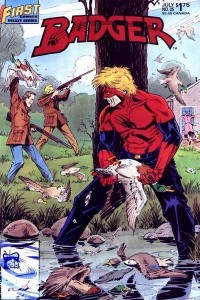 Comic book, 1987
I love telling people about The Badger. It's about a mentally ill Vietnam vet who is a martial arts expert and dresses like a superhero. He savagely beats anyone he doesn't approve of, from supervillains to jaywalkers, all in equal measure. It uses the old gag that someone would have to be a militaristic crazy person in order to be a superhero and milks it for all it's worth, somehow presenting The Badger as a sweet, likable guy in the process. Also, he's employed as a bodyguard by a time displaced 18th century weather wizard turned stockbroker named Ham. And it has the best balance of humanity and humor in dealing with the subject of mental illness that I've ever seen. Did I mention The Badger can talk to animals, like Dr. Doolittle? So, after telling all of this to someone, I get to tell them that no, I wasn't just free-associating. There's actually over 70 issues of this comic. And it's very good.
I used to be annoyed that the cover for this issue, #25, is the main image for The Badger on Wikipedia. It looks very morose, and a poor representation of what reading the freewheeling comic is actually like. But now that I've read the issue, I very much approve. Not only is it a solid story, but one that would definitely serve as a good introduction to the series. In it, The Badger helps an old woman get revenge on her neighbors for murdering the ducks in her pond. It shows The Badger's sweet side, his physical prowess*, and his surprisingly accurate sense of justice. (It's the amount of punishment in relation to the crime that he has trouble accurately gauging.)
The art in this issue is by Bill Reinhold, who I believe drew more issues of the series than any other artist. His art is generic, dull, and stiff, and I imagine it's a big reason why no one ever talks about the title with any reverence. But I think Reinhold's art is what makes The Badger really work. The humor in The Badger works because it's juxtaposed against its presentation as a second rate action comic. When The Badger does things like irately yell "Honk!" at a group of confused ducks while flapping his arms like wings, as he does at the end of this issue, it appears truly absurd. If depicted in a style that appeared to have any sense of humor at all (like the art in, say, fellow funny superhero comic The Tick), the jokes wouldn't have nearly the same punch. The classic humor comic Herbie uses the same strategy.
This conventional style also allows the action, guided by writer Mike Baron (a real-life martial arts enthusiast and practitioner) to have real weight. When The Badger's eyes go crooked and he starts spouting gibberish, you know that someone is about to be seriously hurt. There will be no cartoon stars or birds shooting out of their head, only their own teeth and blood. And that's exciting. Baron (as he does with his other signature creation, Nexus) stacks the morals of the situation so inarguably in his protagonist's favor, primarily by making his villains unilaterally, absurdly rotten, that it's not hard to get behind The Badger's acts of violence, and even to turn your head  and chuckle as he dispenses even more justice than is warranted.
The Badger reminds me of a New York Times pull quote Marvel frequently uses to sell Milligan and Allred's X-Statix, which they describe as "a witty blast of media criticism disguised as a garish spin-off of the X-Men". I hope someday more people realize there's a similar level of satire at work in The Badger.
* Side note: I like that almost no one can defeat The Badger in physical combat. I think it makes the character exciting, and forces the narrative to go in unique directions. In my opinion, whenever writer and creator Mike Baron would write The Badger being defeated by anyone less than a world champion, he was fucking up.
---