Posted: January 13, 2015
Filed under: Action, Comics, Pulp, Science-Fiction
Leave a comment »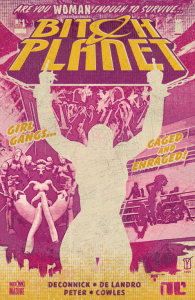 Comic book, 2014
I struggle to get myself to read comics published by Image Comics. I greatly appreciate the part they've played in inching mainstream comics away from the extremely limited subject matter and dire presentation they've been mired in for the past several decades, but I find the often neat, tidy packaging of their central conceits to be such a boring initial step that I'm seldom moved to take a second. "A thief who steals from thieves", "TMZ with superheroes", "Peter Pan fights in World War II". I'm skeptical of anything that appears too easy to pitch, as this is usually an indication of the creators's intention to do just that, resulting in an emphasis on dressing up their vapid, catchy concept over utilizing the comics medium to create an engaging work. Not to mention that inherently shallow approach to storytelling being actively resistant to creating work of depth.
So, this is my perspective on the ecosystem that Bitch Planet exists in. And while Bitch Planet does suffer from some of these pitfalls, it does so with a different motivation on its sleeve, and manages to be an entertaining and stylish comic book in the process.
Joe McCullogh tweeted that a recent Grant Morrison comic was "more effective on a broadly metaphorical or emotional level than point-by-point 'convincing'". Bitch Planet, similarly in a few places, sacrifices logical plot progression and believable characterization for a more blunt communication of its themes, leaving me confused. The husband of an inmate saying his wife "doesn't belong" in prison doesn't seem to jibe with the later revelation of his true intentions, and his use of the word "compliant" seems like an unnatural way to directly tie his motivations to that of the prison's. Less disorienting and more just distracting, is the prison's use of a leather-clad hologram of a nun to address the concerns of one of its inmates. Perhaps someone could make a case for why the dehumanizing, brutal prison would use this vibrant spectacle for its effectiveness or something, but to me it read as a very consciously-placed faux edgy flourish.
I wish action was a higher priority in Bitch Planet, especially since it's such an essential characteristic of the work that comprises the aesthetic it's riffing on. There are two riots in this issue, and they aren't very exciting. There's no defined movement, an essential aspect of action, just consecutive panels of unrelated moments that fail to build on each other in any way. (One striking image, of the largest inmate in midair above a guard, becomes a promise of action unfulfilled as we never see the resulting impact.) I'm reminded of another thematically-obsessed recent work, Snowpiercer, whose fight scenes were also merely signifiers of action, shots filled with flailing arms and weapons with no apparent impact or result. Both works seem to want to have action, but don't care enough about it to give it any follow through.
So while the resulting failings are similar, I think the instinct to prioritize what's at the heart of Bitch Planet has a different origin. Bitch Planet very smartly uses its poppy hook, "Women's prison in space", to focus on the very timely theme of women's oppression. It's a theme beyond worthy of the attention it's currently receiving in culture at large, and I'm enthused that Bitch Planet expounds on it in a way that has the issue so deeply embedded in its DNA, and is also fun and exciting at its foundation. Despite the toll I think it takes on the storytelling at times, I think that theme is communicated effectively and thrillingly, and is pushed past the inherent commentary contained in the concept at its most basic level (women are in prison) through two big bait and switches which (despite hearing the writer say on Inkstuds that she hadn't seen it) I can't help but see as call outs to a couple of the weaker conceptual points of the very prominent women-in-prison television show Orange Is The New Black. I won't spoil them here, but suffice it to say that Bitch Planet depicts the state of male support of women as much bleaker than Orange, and it's emphatically not holding readers hands, and relegating the majority of real life prison's actual populations to the background, by presenting the story through the POV of someone upper middle-class white people can easily identify with. These are adjustments to this concept I can get behind, and think serve the themes much better.
Outside of those themes, Bitch Planet manages to be fun too. The naked riot is a wild, thrilling camp idea. (Which I'm too unfamiliar with the women-in-prison genre to know if it's been done before. It must have, right?) Also notable for catering less to the male gaze, due to the more diverse than usual body types on display. This idea, in contrast to the leather nun hologram, did not seem contrived. The reveal at the end of this issue's also promises an emphasis on more focused action moving forward.
Thankfully, coming from somewhere other than being movie option-bait frees Bitch Planet up to actually be a good comic formally; Its existence as a comic book has been taken into account, down to the pleasant, pulpier than normal paper it's printed on. It's stylish in a way that seems more geared toward being a good looking comic than a set of storyboards, including a distinct and effective visual aesthetic and conceptual page layouts that would actively work against that purpose.
So while I might have significant issues with its storytelling, I think Bitch Planet #1 is strong in a number of ways where it really counts. and I'm excited by how it's representing its important themes.
---