Posted: November 2, 2013
Filed under: Anthology, Art, Comics, Humor, Weird
Leave a comment »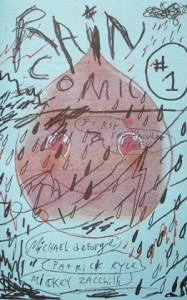 Comic book, 2013
Rain Comic #1 is a recent release in a series of anthology comics published by Mickey Z and featuring work by her, Patrick Kyle, and Michael Deforge, each focusing of a different subject (Basketball Comic #1, Xmas Comic #1, etc.) Sometimes the subject, as with the most recent release, Butler Comic #1, contains thematic elements so intrinsic that they can't help but surface in each author's piece, no matter how far outside the realm of human experience and perception they twist it. So I was interested to see how they handled the subject of rain, possibly their most thematically broad topic yet. Reading it, I was surprised at how central the authors managed to make rain to their stories, both to the plot and thematically. In the various stories, ranging from one to six pages long each, rain is used to talk about legacy, experience, and as a transformational agent. All in all, only a couple of the one page strips seemed to say "oh, and it was also raining". After I finished the book, I remembered what James Kochalka did with the same subject in his Hulk Vs Rain story, and felt silly for not realizing ahead of time that, in the hands of a storytelling lineup as strong as this one, a broader subject could actually serve as an even more direct tool.
---
Posted: August 11, 2013
Filed under: Art, Character study, Comics
Leave a comment »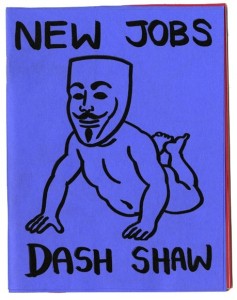 Dash Shaw has put out very little work since the 2009 release of his Unclothed Man in the 35th Century AD short story collection, and New Jobs is the first of the burst of new material he recently released that I've read, so I feel like I'm more or less back at square one with experiencing and interpreting his work. And that's the biggest strength of Shaw's comics- whether you enjoy them or not, they're layered and complex in a way that fosters investigation and discussion. Even people I know who don't enjoy Shaw's work spend a few minutes explaining what they don't like about it, seemingly unable to simply dismiss it.
New Jobs is dense, packing a lot of moments onto each of its tiny pages, in contrast to the fluffier, widescreen cinema method of storytelling currently in vogue in mainstream comics. I call them moments instead of panels because there are no borders. In fact there's a complete disregard for the grid system at work here. Moments are placed with only pacing in mind, which, in addition to the Sharpie-imbued smoothness of the drawings, gives the reading experience a fluidity that suggests a different cinematic experience- animation. The drawings seem to move as they melt into one another. 
Shaw has a similar stripped down approach toword genre. New School isn't quite science-fiction, but he adapts the society the characters live in to suit the themes of the story. By only using the most efficient parts of the various storytelling strategies at play, Shaw has managed to pack a lot of ideas into a very small package.
---
Posted: August 6, 2013
Filed under: Art, Comics
Leave a comment »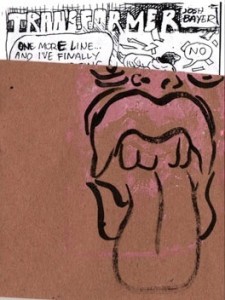 Comic book, 2012
Josh Bayer's drawings sure let you know they're working hard- beads of sweat fly off the character's furrowed brows as they struggle to convert simple thoughts into comprehensible communication. After seeing his work online for years as one of the more visible faces of the current alt-comics scene, Transformer is my first time reading one of his actual books (barring the Suspect Device series he edits, in which all his contributors seem to adapt his visual language to varying degrees). It's a comic about comics, in the way I suspect his Raw Power series is about punk. Furthermore, it's a comic about making comics, almost making it self-referential twice over. Postmodernism can often feel impersonal, but Bayer seems to be able to overcome this. It's just as easy to imagine the beads of sweat flying off the protagonists of Transformer are Bayer's own as they are the artistic icons they ostensibly represent.
---
Posted: December 21, 2010
Filed under: Art, Comics, Indie, Weird
Leave a comment »
Comic book, 2010
Just when it looked like R.A.V. was going to settle into some sort of a status quo, it ended the main quest of one of it's main characters and turned the other into some sort of a sentient indoor stormcloud. R.A.V. is a fun book, but there's something not so nice hiding just below the surface, like when The Joker said "I'm only laughing on the outside", and it seems like it might be building. 4
---
Posted: December 20, 2010
Filed under: Art, Comics, Indie, Weird
Leave a comment »

Comic book, originally serialized in 2009 and 2010 with this edition being published in 2010
Michaela Zacchilli's R.A.V.#2+3 is a collection of the first two issues or her badass action comic R.A.V. Drawn in a style so loose and frantic that a first time reader couldn't be faulted for not only assuming that it doesn't have a story but that the drawings aren't completely abstract, R.A.V. requires a bit of attention just to read. Rather than being off-putting, the effect achieved is more of a cognitive dissidence that implies that the proceedings are occurring in an existence outside of our own. It's kind of like watching a show on the TV from Poltergeist and it's not so much that the reception is bad but it's not something humans can totally comprehend. In addition to the visuals being a challenge to work through, the word balloons poke out of characters mouths as if they're an extension of their esophaguses and their dialogue is labored in a way that implies that it's a struggle merely forming thoughts in their reality. Behind all these fun mind games is an even more fun story with the kind of stream of consciousness storytelling that strikes a chord you've never heard before but sounds completely in tune. What all this madness adds up to for me is a fun read that operates on a level I've never explored before. 4
---
Posted: November 25, 2010
Filed under: Art, Comics, Superhero, Weird
Leave a comment »
Comic book, Originally serialized 1992/1993 this edition assembled 2002
The Maximortal is one of those works of fiction that forsakes a straightforward narrative and puts it's themes in the driver's seat. It's a surreal, Sun Ra-style jazz riff on an old favorite- superheroes. Well, Superman, really. I didn't spend much time considering that the author, the great Rick Veitch, was trying to say about the character and it's convoluted, shameful history, but I enjoyed the wild places he went with it. As with all of Veitch's work there are moments of disturbing surreality that contain an intrinsic logic that makes the reader feel like he somehow hand-picked the images right from the darkest places of their own subconscious. Those moments were the highlight of The Maximortal for me, along with the intriguing way he split up the narrative. He shows us chronological scenes, each with several years between them (and often skipping over hugely important events in the overall timeline), and then ties it all together at the end by implying that the idea of Superman gave birth to itself. 4
---
Posted: November 21, 2010
Filed under: Art, Comics, Science-Fiction
Leave a comment »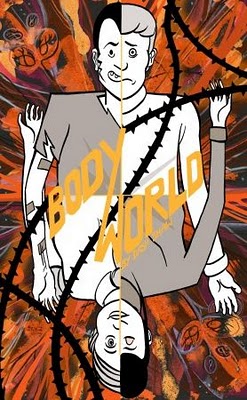 Comic book, 2010
BodyWorld was a much buzzed-about webcomic that built a lot of excitement for it's print release. But when the print edition came out, that excitement seemed to fizzle. When I first started reading the print edition, I thought I could see why; I thought the airier, lighter format of the web served the fun story better, and that by placing it in a large tome the plot couldn't support it's literal weight. Not to mention that the vertical format of the book (touted as "innovative" in the author's own handwriting on the cover) makes it hard to easily hold and read, frequently removing you from the narrative. But the further I got into the book, the more I became involved in the story and the themes revealed themselves to me. Pretty pictures, silly plot, layered themes. 4
---